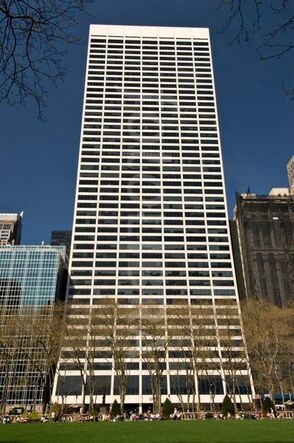 W. R. Grace Building

Type

Commercial offices

Location

Construction started

1971

Completed

1974

Height

630.02 ft (192.03 m)

Floor count

50

Elevators

32

Owner

Brookfield Office Properties

Architect

Gordon Bunshaft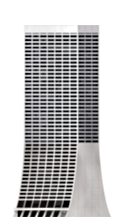 The
W. R. Grace Building
is a skyscraper in
Manhattan
.
History
The building was designed principally by Gordon Bunshaft, and completed in 1974.[1][2] The building was commissioned by the W.R. Grace Company, and was also used by the Deloitte & Touche, LLP formerly Deloitte Haskins & Sells.
The building is located at 1114 Avenue of the Americas (also known as Sixth Avenue), but the main entrance is on 42nd Street, between 5th and 6th. It overlooks Bryant Park and the New York Public Library. The building size is approximately 1,518,000 rentable square feet, and sits on a site approximately 100 x 442 feet (67,875 square feet). The ownership is currently Brookfield Financial Properties, LP.
Architecture
One of the notable aesthetic attributes of the building is the concave vertical slope of its north and south facades, on 42nd and 43rd Street. This is similar to another of Bunshaft's creations, the Solow Building, which is no coincidence, as he had used the initial, rejected façade design for that building in his design for the Grace Building.[1] The exterior of the building is covered in white travertine, which forms a contrast against the black windows and makes the building appear brighter than those surrounding it.
The Grace Building is located on the former site of Stern's department stores' flagship location and headquarters.
In 2005, the City University of New York opened a "Welcome Center" on the ground floor of the Grace Building as a one-stop information center for prospective students.[3]
Cultural references
The Grace Building was featured in the 2007 Marvel Comics motion picture Fantastic Four: Rise of the Silver Surfer. The Silver Surfer, pursued by the Human Torch, surfs down the south face of The Grace Building, imploding windows in his cosmic-energy wake. At street-level, he continues west down 42nd Street towards Times Square and, eventually, the Lincoln Tunnel. The Surfer's landing damages vehicles parked in front of the building, flipping one car upside-down. The end of this scene was also incorporated into an auto insurance commercial in which a mother and daughter greet their husband/father as he exits the Grace Building and begin the task of explaining why their vehicle, which was parked on 42nd St. in front of the Grace Building, is upside-down and ablaze.
The Grace Building also appears in the 2010 comedy Morning Glory, as the headquarters of the IBS Television network, where aspiring executive producer Becky Fuller snags a job.
The building's distinctive look was also copied in D.C. Comics for the headquarters of S.T.A.R. Labs, and in The Venture Bros. for 1 Impossible Plaza, home of a Fantastic-Four-ish parody team.
Tenants
References
Community content is available under
CC-BY-SA
unless otherwise noted.