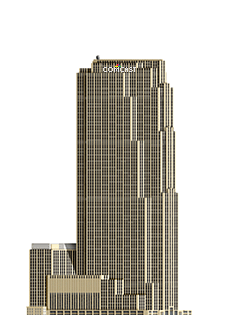 The Comcast Building (formerly known as the GE Building)is the tallest building in Rockefeller Center it is home to the Famous Top of the Rock where you can stand on an observatory and look over Midtown Manhattan it is estimated that over 50,000 people visit the attraction every week

The Top of the Rock, reopened to the public on November 1, 2005, after undergoing a $ 75 million renovation. It had been closed since 1986 to accommodate the renovation of the "Rainbow Room". The platform, which is built to look like the platform of an ocean liner, offers tourists a bird's eye view of the city, competing with the observatory on the 86th floor of the Empire State Building. It is often considered the best panoramic view of the city. The city, if only because it offers a view of the Empire State Building, which can not be seen from its own observation platform. The Top of the Rock had also been co-opted by Sunday Night Football on NBC during the 2006-2007 season, with the best player in that night's game, according to John Madden and Al Michaels receiving the honor of being the " Rock Star "that night in the form of a crystal trophy on the observation deck, which was a replacement for the" Horse Trailer Award "previously awarded on ABC's Monday Night Football. The "Horse Trailer Award" was restored for the 2007-2008 season.
Community content is available under
CC-BY-SA
unless otherwise noted.